Last Updated on: 1st June 2023, 09:18 pm
Are you an avid car photographer looking to capture the perfect shot of your favorite vehicles? If so, you've likely experienced the struggle of finding the right camera lens to achieve those stunning, professional-quality images that truly do justice to these magnificent machines. Look no further, because we've got you covered.
In this comprehensive guide, we've curated a list of the best car photography camera lenses for photographers, ensuring you have the ideal tools to tackle this challenging yet rewarding art form.
Say goodbye to blurry or lackluster photos, and get ready to elevate your car photography game with the ultimate selection of top-notch lenses designed specifically for capturing automotive masterpieces.
What Makes a Good Car Photography Camera Lens
Focal Length
A versatile focal length is essential for car photography. Wide-angle lenses allow you to capture the entire vehicle in a single frame, while telephoto lenses can be used to focus on specific details or to compress the background.
Aperture
A fast aperture (low f-number) is crucial for achieving a shallow depth of field, which helps isolate the car from its surroundings and create a pleasing bokeh effect.
Image Stabilization
Image stabilization is beneficial for capturing sharp images, especially when shooting handheld in low light conditions or using longer focal lengths.
Autofocus
A fast and accurate autofocus system ensures that you won't miss a shot due to focusing issues.
The Best Cameras For Car Photography
There are different models of Cameras that are best for each aspect. Some are great in quality, while others will be continuous photos while others might be great in focus. So in order to buy a camera, we will suggest all high-quality, low-priced, AF systems and good cameras for car photography that suit your needs like videography for different areas.
Canon EOS R5 – Best Choice for HD Resolution
Canon EOS R5
Brand Canon
Model Name Canon EOS R5 Body
Form Factor Mirrorless
Effective Still Resolution 35.4 MP
| | |
| --- | --- |
| Feature | Detail |
| Brand | Canon |
| Form Factor | Mirror Less |
| Sensor Resolution | 35.4 MP |
| Weight | 1.62 lbs |
| Video Capture Resolution | 4320p |
The Canon EOS R5 is not a standard camera you would typically think of using for car photography. But R5 has some great features that might make it a great option.
We have also taken great quality images in heavy rain, So in my opinion, Its weather-resistant feature is seals and a magnesium chassis, making it a rugged and reliable camera for cars.
The camera has a 45 Megapixel CMOS sensor with a low-pass filter and a DIGIC X Image Processor with an ISO range of 100-51200 and which can be easily Expandable to 102400×1 to help you get a bright picture in dark areas.
EOS R5 camera is perfect for adventurous travelers to take pictures with their cars and who want to document their incredible journeys.
KEY SPECIFICATIONS:
HD 8K Recording:
With the help of EOS R5, I have recorded videos with a resolution of 8K with up to 29.97 FPS, which could be a very smooth and crystal video recording.
Auto Focus Feature
It also has a fast autofocus system that ensures your photos and videos are sharp and clear. If you are a sports car lover and watch to get pictures of running cars, its subject tracking can assist you in taking stable pictures.
The Canon EOS R full-frame mirrorless camera has many features that make it perfect for a car photo shoot if you are not a professional photographer.
Easy It has a built-in wifi module that allows you to transfer photos and videos to your computer or phone. You can also use the camera to record videos or take pictures while driving.
Pros
Fantastic image quality.
Excellent, sturdy build.
45 MP sensor.
20 FPS continuous shooting.
Exquisite image quality.
Cons
Expensive compared to other cameras on the market.
Conclusion
Overall, I tested Canon R5 for night and day automotive photography, and the quality was awe-inspiring. Canon EOS R5 is one of the best cameras for car photography but expensive if you are looking for a camera-less in price than this one, you can have Canon EOS R6.
FUJIFILM X-T4 – Best for Focus
FujiFilm XT4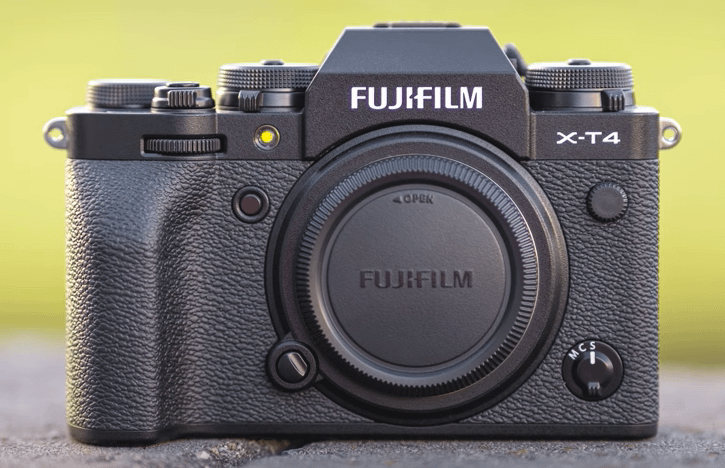 Brand Fujifilm
Form Factor Mirrorless
Effective Still Resolution 26.1 MP
Special Feature Face Detection
| | |
| --- | --- |
| Feature | Detail |
| Brand | Fujifilm |
| Form Factor | Mirrorless |
| Sensor Resolution | 26.1 MP |
| Weight | 2.13 lbs |
| Video Capture Resolution | 2160p |
The Fuji camera is perfect for shooting photos and videos of your car in all kinds of conditions. It'sIt's well-built and challenging, so you can trust it to take great photos and videos even in challenging conditions.
After high school, I was passionate about always getting quality pictures of different cars. At the release of Fuji Film XT4, I decided to test its video and photo quality which was pretty impressive for a price under 2000$ camera.
I compared Sony A6500 Standard with Fujifilm XT4 while shooting for cars first thing we noticed was it was difficult to focus on a specific part with high-quality focal lengths.
While filming car shoots, if you need to change auto Focus points, as X-T4 does not perform well as the display does not go downwards, while in A6500, it is easy to focus while holding the camera in two hands.
KEY SPECIFICATIONS:
IBIS Technology
We also noticed that X-T4 has a stability option, which you can unlock from a setting called IBIS/OIS. When you turn on this feature, you will notice very few moments and have a stable recording with body image stabilization.
The IBIS of the Fujifilm X T4 gives an excellent level of shake compensation that is essential in low light settings, which is an upgraded T3 model.
It has stunning JPEG quality and the same sensor found in previous models, such as the Fujifilm X T2.
Versatile Camera
Plus, Fujifilm'sFujifilm's X-T cameras are some of the most versatile cameras. They are perfect for taking photos and videos of cars, motorcycles, boats, and other vehicles. You can use them to capture stunning footage of your favorite rides.
Different Simulations
You can easily change simulation from Camera settings identical to Adobe Premier Effects. You can easily adjust different scene settings.
The only draw I have noticed in Fuji DSRL cameras is that they can record for 30 minutes, which might not be good if you want to record more than 30 minutes.
Pros
26.1MP APS-C CMOS 4 image sensor
WifiWifi and Bluetooth connect
Electric viewfinder
Extras image processor
Cons
It has a flip-eschewal screen.
Conclusion
So if you're looking to invest in a Fujifilm X-T camera because instead of having multiple cameras, it is good to have Fuji XT4.
Canon EOS Rebel-T6 – Best for Low Light
Canon EOS Rebel-T6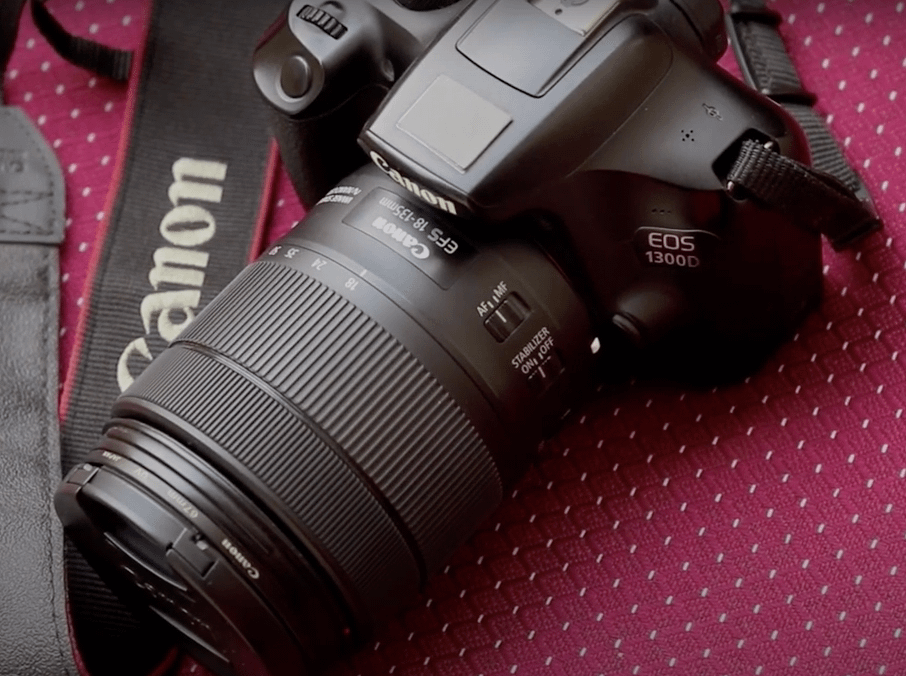 Brand: Canon
Form Factor: DSLR
Effective Still Resolution: 18 MP
Special Feature: Alcohol-Free
If you want Canon EOS Rebel-T for entry-level or portrait photography, then well it could also a good choice for a Canon low light lens.
But if you have an intention for video recording, then I would suggest not to buy as Rebel-T6 does not have good video quality and affordable camera under 500$ range.
I used this camera at a car race in Orlando, Florida. I was pretty surprised with the quality of the images. While being a beginner, it is hard to take such high-quality images.
One of the main issues while recording I faced was the issue with constant autofocus, which is not fast as considered, so can it can make your video blurry.
If you are a beginner, I would suggest going for Canon EOS M50, which is a little expensive, but you will get a high 4K recording and continuous AF.
THE EOS T6 camera is equipped with a lens that produces high-quality images. It also has a built-in flash that helps to illuminate the scene in dark conditions.
If you want to use it for photography, then no need to worry as it supports AutoFocus in photo mode. We also tried its AF in live mode.
While in live mode, AF is very slow. It can take up to 5-7 seconds while holding the capture button.
I am mostly irritated while capturing a photo with AF mode due to its AF cringe noise. If you are a sports person, you might not like this camera as once I was shooting at a basket match.
I took some great photos and missed most shoots due to slow focus. If you want to use it for sports reasons, then this camera is not reliable.
KEY SPECIFICATIONS:
Camera Sensor:
EOS Rebel T6 has 18 Megapixel sensor, which is not too large to use, and even the price is quite affordable to have such a camera.
T6 has ISO maxes around 6400 and the low as 100. You can easily to any ISO value according to light.
But our moral decision is never to use it over 1600, or else you will get a lot of noise, or your picture quality will lose its sharpness.
Excellent View Finder
With T6 View Finder, you can easily capture the frame you want according to the scene, which helps me reduce shakiness and sharp images.
Continuous Shooting
While continuously taking pictures, Rebel T6 can quickly shoot continuously at three frames per second which are good in this price range.
It is not recommended for sports photography due to its low burst rate and could easily miss the quality/best picture you were waiting for.
Variety Features
The Canon EOS Rebel-T also has various other features that make it an excellent camera for car photography.
It has a shooting mode that allows you to take pictures in RAW format. This format preserves more information in the image than in other shooting modes. To share the file, it has wifi and NFC mode.
Pros
Good camera for beginners
HD Recording
Image stabilization
ISO range (100-6400)
Conclusion
Overall, the Canon EOS Rebel-T is an excellent camera for car photography who knows the camera fundamentals such as shutter speed, aperture, iso, exposure, Focal length, and other stuff.
Its high-quality lenses and shooting modes make it an ideal choice for capturing beautiful images of your car.
Nikon D3500 – Light Weight Camera
Nikon D3500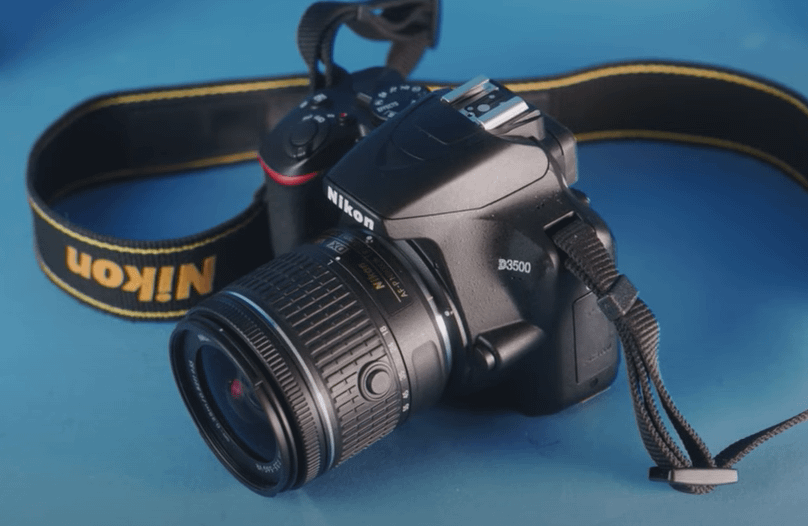 Brand: Nikon
Form Factor: DSLR
Effective Still Resolution: 24.2 MP
Color: Black
Connectivity Technology: Bluetooth, USB
| | |
| --- | --- |
| Feature | Detail |
| Brand | Nikon |
| Form Factor | DSLR |
| Sensor Resolution | 24.2 MP |
| Weight | 0.8 lbs |
| Video Capture Resolution | 1080p |
Nikon has long been considered the king of car photography and the Best Affordable Camera for car photography under 700$ budget.
I like this camera because of its 24.2 Mega Pixel sensor, which captures every high-quality photo. This Nikon D3500 can capture five frames per second which is quite beneficial in drag race photography.
I have also done photography in drag races where most vehicles are so fast. With the help of continuous photo shoots, you can quickly get the perfect beautiful photos of your ride.
The object will be mainly focused if you are in a racing championship and want to record a video clip with Nikon 11 AF point.
One thing that makes Nikon cameras so great is their sensor size. Nikon'sNikon's sensors are much larger than those found in other cameras, which allows them to capture more detail in your photos.
Your photos will look stunning even if you're not a professional photographer.
KEY SPECIFICATIONS:
Camera Sensor:
Nikon D3500 has 24.2 MP sensors with no OLPF. If you don't know OLPF, it is a low pass filter which it does not have so that you can have sharper images.
D3500 has more pixels than a 6000$ camera but has a small sensor. So you can quickly get a solid result out of this camera.
ISO Range
With this camera, you can capture images with 100-25600, but according to our test, its ISO is usable till 6400 with the correct settings.
Fast Accurate Focus
Nikon cameras have an autofocus system that is very fast and accurate. With the D3500 model, you will have 11 focusing points with the center one, which is the only cross-type.
So through that, you get to have the most accurate focused photo. This means you'll be able to take great photos without worrying about focus mistakes.
But during video recording, it faces issues while focusing on an object, and you might get slightly blurry video in some parts. But if you can use manual focus, you do not need to worry.
Pros
Snap bridge to share the image to the phone
Full HD 1080p
24.2 MO camera sensor 
11 AF points
Cons
No Touch Screen
There is no external mic port.
Conclusion
Nikon cameras are built with durability in mind. They are designed to last through even the roughest car rides. So whether you're looking for a camera that can take beautiful photos or one built to last, Nikon is a great choice.
Canon EOS 80D – Affordable Budget Camera
Canon EOS 80D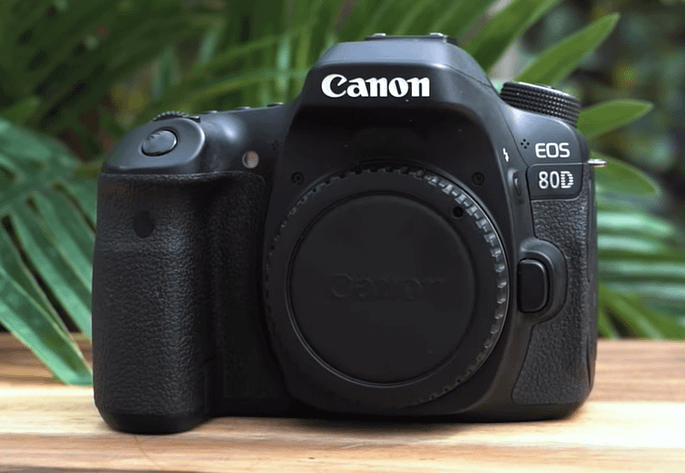 Brand: Canon
Model Name: Canon EOS 80D
Form Factor: DSLR
Effective Still Resolution: 24.2 MP
| | |
| --- | --- |
| Feature | Detail |
| Brand | Canon |
| Form Factor | DSLR |
| Sensor Resolution | 24.2 MP |
| Weight | 1.40 lbs |
| Video Capture Resolution | 1080p |
Canon EOS D cameras are some of the best low-light cameras for car photography. I had to sell my Honda Brio. I decided to capture photos with Canon EOS 80D mid-budget camera under 600$.
When taking photos, it was slightly dark, but Canon 80D worked well and captured the picture in low light and was very sharp.
One of the most essential features of Canon EOS D cameras is their Camera Sensor which is 24.2 MP. This allows you to capture gorgeous photos that look amazing when printed or displayed on a computer or phone.
KEY SPECIFICATIONS:
Camera Sensor:
Canon 80 D has APS-c Sensor with 24.2mega pixels, which helps you to record video in full HD with 60 fps, but if you are a fan of 4k ultra Hd recording, you might be disappointed as it lacks 4k recording.
While in photography, you can have a resolution of 6000×4000 pixels sharper image compared to its old model Canon 70D.
File Compression
The camera has the two-video file compression, which can only be applied while recording in 30 FPs, including the lower IPB and Higher bitrate or All-I compression.
Display:
EOS 80D has a digital touch screen with which you can easily change your IOS, sharpness, or saturation, which is best for a while recording. The camera display is very bright even. You can see the display clearly in daylight so that you can adjust exposure correctly.
Focus
The EOS 80D has the most impressive Focus and AF mean dual CMOS AF feature. You can even use 3 AF. Through that, you can focus or track the face or any object in the center of the image.
Canon EOS 80D cameras also have a robust autofocus system that ensures your photos are correctly taken every time. This system can track moving objects, making it perfect for capturing photos of cars in motion.
I mostly like Auto Focus camera in recording as you can slow or increase the speed of AF, but it only works with the Canon STM lenses.
To make focus even more accessible, the ATD has the one-touch focus setting, which is very easy and accurate to focus on the right subject with the help of a touch screen.
ISO Performance:
Canon EOS 80D ISO performance is not very excellent but reasonable compared to its old Canon 70D model. We made a test while shooting with ISO 3200. While video recording, the noise is acceptable but mostly depends on the amount of light during the scene.
While with ISO 12800, the noise is very high, which makes the footage unusable, I am So shooting while low light, the higher dynamic might be an issue for you.
Additional Features
In addition to excellent image quality, Canon EOS D cameras offer many other features that make them perfect for car photography.
Pros
Touch screen
3.5mm Headphone jack
Good Battery time in photo and video mode
Controllable AF mode
Conclusion
Overall, Canon EOS 80D cameras are some of the recommended affordable cameras for automobile photography. They offer excellent image quality and features that make them perfect for capturing beautiful photographs.
What to Consider Before Choosing Camera for Car photography
The best cameras for car photography are lightweight, easy to use, and have a wide range of capabilities which are provided by different best camera brands.
The camera should be able to take good photos in low-light conditions and capture clear images in brightly lit environments.
Additionally, the camera should have a long battery life so that you can keep shooting without having to worry about charging it.
Conclusion
All the cameras are best based on their functionality and price some are best of their quality while some for their AutoFocus, some might support more lenses and now it's up to you which one you prefer and make sure our advice that taking great picture depends on your skill rather than the camera.
What is the best ISO Setting for the Camera during car photography?
The ISO settings basically depend on the location and the amount of light that is available at the time of capturing a photo. If it's dark then you can increase ISO while if there is enough light you can use low ISO settings. Make Sure high ISO does not destroy your image quality.